Three way high pressure ball valves
Holmbury's BVC 3 Series three way high pressure ball valves are designed to suit a wide range of applications. These valves should not be used as flow control valves and should therefore always be fully open or closed.
Speciality Coupling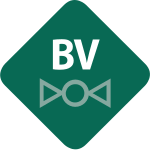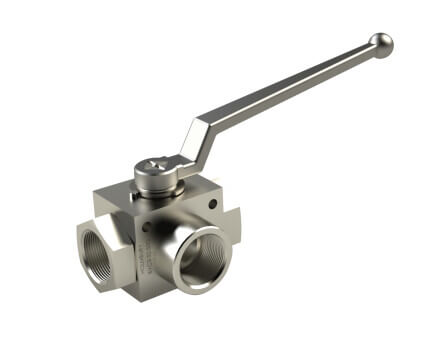 Features
Available in 'L' or 'T' port configurations
One piece body design provides additional strength
Full bore valves provide unrestricted flow path for negligible pressure drop
90 degree operation
Cranked handle allows clearance for easy operation
Accessories
Valve Locking Kits and Valve Handles are available for the BVC 3 Series
Construction
Carbon steel with trivalent plating
Fitted with Nitrile seals
Also available in AISI 316 stainless steel (See BVS 3 Series)
Metric and flanged available on request
Applications
Designed for usage in general hydraulic systems, machine tools, test equipment, agricultural, and mobile hydraulics
AVAILABLE SEALS AND TEMPERATURE RANGE
All carbon steel products have Nitrile Butadiene Rubber seals fitted as standard. All stainless steel products have Fluoro-elastomer Rubber (Viton®) seals fitted as standard. Special seal materials available on request.
| | | | | |
| --- | --- | --- | --- | --- |
| Abbreviation | Trade Name | Chemical Name | Min Temp. | Max Temp. |
| NBR XNBR | Chemigum®, Hycar8, Breon®, Butakon®, Butacril®, Buna-N®, Perbunan®, Paracril®, Krynac®, Europrene-N®, Nipol® | Nitrile Butadiene Rubber Carboxylated Nitrile Rubber | -40°C (-40°F) | 106°C (223°F) |
| FKM (FPM) | Dai-el®, Fluorel®, Tecnoflon®, Viton® | Fluoro-elastomer Rubber | -20°C (-4°F) | 200°C (392°F) |
| EPR EPDM | Buna-AP®, Dufral®, Epsyn®, Nordel®, Epcar8, Keltan®, Royalene®, Polysar-EPDM® | Ethylene Propylene Copolymer Ethylene Propylene Terpolymer | -50°C (-58°F) | 120°C (248°F) |
| FVMQ | Silastic 1S®, FSE® | Fluorosilicone Rubber | -65°C (-85°F) | 170°C (338°F) |
| FFKM | Perlast®, Kalrez®, Chemraz®, Kaflon® | Perfluoroelastomer | -25°C (-13°F) | 300°C (572°F) |