Connect under pressure high flow couplings with a safety locking sleeve
Holmbury's F Series high flow safety couplings offer three important benefits; high flow, connection under pressure and a safety locking mechanism to prevent accidental disconnection.
Connect Under Pressure
High Flow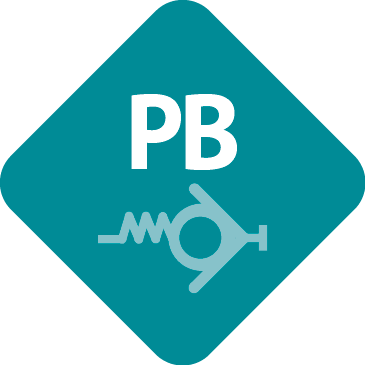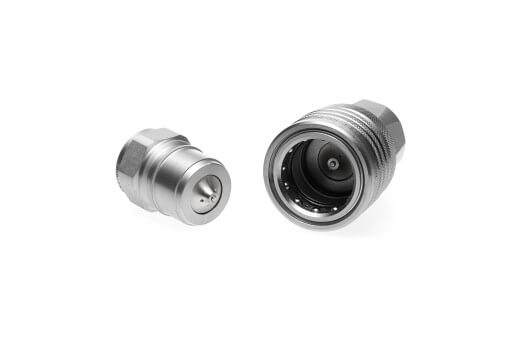 Features
High flow rates
Optional pressure eliminator allows connection with residual pressure in the hydraulic circuit (Not applicable for size 06)
Low pressure drop characteristics
Safety locking ring to avoid accidental disconnection
Female half has double 'O' ring sealing arrangement
Bidirectional flow
Accessories
Dust caps, plugs and seal kits are available for the F Series
Construction
Carbon steel with zinc nickel plating (1200 hours with no red rust in salt spray tests)
Fitted with Nitrile seals
Also available in stainless steel (see FS Series)
Applications
Mobile plant
General industrial
Forestry equipment
AVAILABLE SEALS AND TEMPERATURE RANGE
All carbon steel products have Nitrile Butadiene Rubber seals fitted as standard. All stainless steel products have Fluoro-elastomer Rubber (Viton®) seals fitted as standard. Special seal materials available on request.
| | | | | |
| --- | --- | --- | --- | --- |
| Abbreviation | Trade Name | Chemical Name | Min Temp. | Max Temp. |
| NBR XNBR | Chemigum®, Hycar8, Breon®, Butakon®, Butacril®, Buna-N®, Perbunan®, Paracril®, Krynac®, Europrene-N®, Nipol® | Nitrile Butadiene Rubber Carboxylated Nitrile Rubber | -40°C (-40°F) | 106°C (223°F) |
| FKM (FPM) | Dai-el®, Fluorel®, Tecnoflon®, Viton® | Fluoro-elastomer Rubber | -20°C (-4°F) | 200°C (392°F) |
| EPR EPDM | Buna-AP®, Dufral®, Epsyn®, Nordel®, Epcar8, Keltan®, Royalene®, Polysar-EPDM® | Ethylene Propylene Copolymer Ethylene Propylene Terpolymer | -50°C (-58°F) | 120°C (248°F) |
| FVMQ | Silastic 1S®, FSE® | Fluorosilicone Rubber | -65°C (-85°F) | 170°C (338°F) |
| FFKM | Perlast®, Kalrez®, Chemraz®, Kaflon® | Perfluoroelastomer | -25°C (-13°F) | 300°C (572°F) |