Replacement cartridge couplers for the Faster 4BD4FH/4BD4FI
Holmbury's FFC Series is a replacement flat face cartridge coupler for the Faster 4BD4FH and 4BD4FI blocks.
Speciality Coupling
Min Spill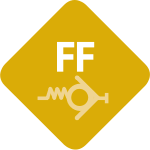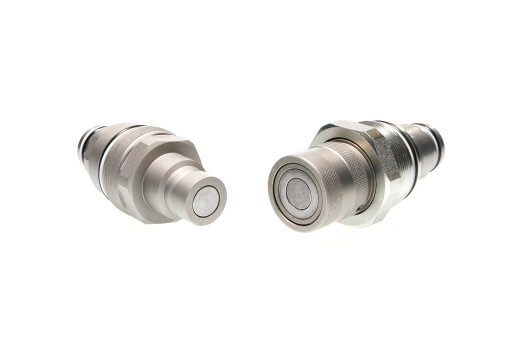 Features
Internal design allows the female half to always be depressurized when disconnected
Male has built-in connect under pressure functionality
Couplings are flat face and are designed to the ISO 16028 Standard
Low profile coupler design minimizes side loading
Construction
Carbon steel with zinc nickel plating (1200 hours with no red rust in salt spray tests)
Currently available in size 12 body
Fitted with Nitrile and Polyurethane seals
Applications
Quick changeover of construction equipment attachments
Skid steer loaders
Track loaders
Excavators
Compact loaders
Utility vehicles
AVAILABLE SEALS AND TEMPERATURE RANGE
All carbon steel products have Nitrile Butadiene Rubber seals fitted as standard. All stainless steel products have Fluoro-elastomer Rubber (Viton®) seals fitted as standard. Special seal materials available on request.
| | | | | |
| --- | --- | --- | --- | --- |
| Abbreviation | Trade Name | Chemical Name | Min Temp. | Max Temp. |
| NBR XNBR | Chemigum®, Hycar8, Breon®, Butakon®, Butacril®, Buna-N®, Perbunan®, Paracril®, Krynac®, Europrene-N®, Nipol® | Nitrile Butadiene Rubber Carboxylated Nitrile Rubber | -40°C (-40°F) | 106°C (223°F) |
| FKM (FPM) | Dai-el®, Fluorel®, Tecnoflon®, Viton® | Fluoro-elastomer Rubber | -20°C (-4°F) | 200°C (392°F) |
| EPR EPDM | Buna-AP®, Dufral®, Epsyn®, Nordel®, Epcar8, Keltan®, Royalene®, Polysar-EPDM® | Ethylene Propylene Copolymer Ethylene Propylene Terpolymer | -50°C (-58°F) | 120°C (248°F) |
| FVMQ | Silastic 1S®, FSE® | Fluorosilicone Rubber | -65°C (-85°F) | 170°C (338°F) |
| FFKM | Perlast®, Kalrez®, Chemraz®, Kaflon® | Perfluoroelastomer | -25°C (-13°F) | 300°C (572°F) |