FSC Series
Holmbury's FSC Series flat faced screw to connect couplings
offer a compact, rugged connection to eliminate brinelling.
An ideal solution for high pressure pulses and demanding
applications.
Connect Under Pressure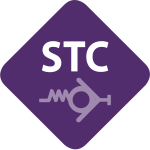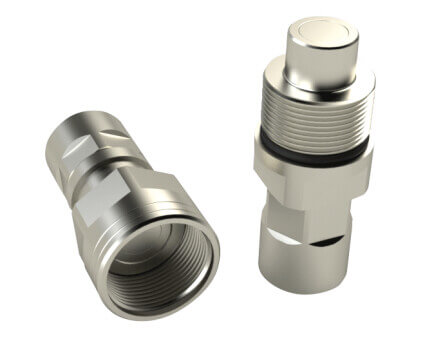 Features
• Screw to connect design eliminates brinelling
• Integral connect under pressure feature
• Flat faces are easily wiped clean
• Allows for minimal inclusion of air and contaminants
during connection
• Flat face design prevents fluid loss during
disconnection
• Bidirectional flow
• Interchangeable with other leading brands.
Contact Holmbury for more information
Accessories
• Dust caps, plugs and seal kits are available for
the FSC Series
Construction
• Carbon steel with zinc nickel plating (1200 hours
with no red rust in salt spray tests)
• Fitted with NBR seals, Polyurethane and PTFE
backup ring
• Other seal options available on request
Applications
• Hydraulic attachments
• Hammer circuits
• High pressure pulse applications
• Leak free environments
• Construction plant, mobile equipment, general
industrial, mining and agricultural industries
• Agricultural
AVAILABLE SEALS AND TEMPERATURE RANGE
All carbon steel products have Nitrile Butadiene Rubber seals fitted as standard. All stainless steel products have Fluoro-elastomer Rubber (Viton®) seals fitted as standard. Special seal materials available on request.
| | | | | |
| --- | --- | --- | --- | --- |
| Abbreviation | Trade Name | Chemical Name | Min Temp. | Max Temp. |
| NBR XNBR | Chemigum®, Hycar8, Breon®, Butakon®, Butacril®, Buna-N®, Perbunan®, Paracril®, Krynac®, Europrene-N®, Nipol® | Nitrile Butadiene Rubber Carboxylated Nitrile Rubber | -40°C (-40°F) | 106°C (223°F) |
| FKM (FPM) | Dai-el®, Fluorel®, Tecnoflon®, Viton® | Fluoro-elastomer Rubber | -20°C (-4°F) | 200°C (392°F) |
| EPR EPDM | Buna-AP®, Dufral®, Epsyn®, Nordel®, Epcar8, Keltan®, Royalene®, Polysar-EPDM® | Ethylene Propylene Copolymer Ethylene Propylene Terpolymer | -50°C (-58°F) | 120°C (248°F) |
| FVMQ | Silastic 1S®, FSE® | Fluorosilicone Rubber | -65°C (-85°F) | 170°C (338°F) |
| FFKM | Perlast®, Kalrez®, Chemraz®, Kaflon® | Perfluoroelastomer | -25°C (-13°F) | 300°C (572°F) |