ISO A push / pull female couplings (Connects with 1⁄2" ISO A male probes)
Holmbury's P Series ISO A female couplings are designed primarily for the agricultural industries and incorporate a push-pull design. The coupling is panel mounted using circlip grooves in the locking sleeve.
Push Pull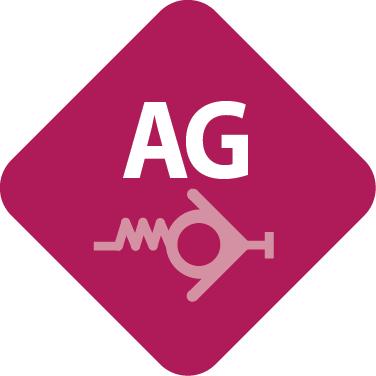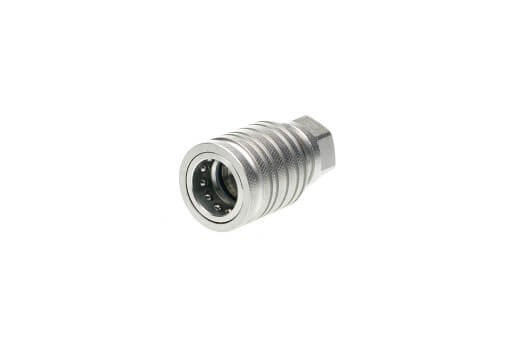 Features
Can be connected with standard ISO A 1/2"male couplings
Release mechanism protects coupling and hose from damage in event of accidental separating force
Locking ball system allows quick connection
Bidirectional flow
Accessories
Dust plugs are available for the P Series
Construction
Carbon steel with trivalent plating (US)
Carbon steel with zinc nickel plating (UK)
Fitted with Nitrile seals
Also available in connect under pressure variant (See IAPC Series)
Applications
Agricultural
Mobile
Construction
General hydraulics
AVAILABLE SEALS AND TEMPERATURE RANGE
All carbon steel products have Nitrile Butadiene Rubber seals fitted as standard. All stainless steel products have Fluoro-elastomer Rubber (Viton®) seals fitted as standard. Special seal materials available on request.
| | | | | |
| --- | --- | --- | --- | --- |
| Abbreviation | Trade Name | Chemical Name | Min Temp. | Max Temp. |
| NBR XNBR | Chemigum®, Hycar8, Breon®, Butakon®, Butacril®, Buna-N®, Perbunan®, Paracril®, Krynac®, Europrene-N®, Nipol® | Nitrile Butadiene Rubber Carboxylated Nitrile Rubber | -40°C (-40°F) | 106°C (223°F) |
| FKM (FPM) | Dai-el®, Fluorel®, Tecnoflon®, Viton® | Fluoro-elastomer Rubber | -20°C (-4°F) | 200°C (392°F) |
| EPR EPDM | Buna-AP®, Dufral®, Epsyn®, Nordel®, Epcar8, Keltan®, Royalene®, Polysar-EPDM® | Ethylene Propylene Copolymer Ethylene Propylene Terpolymer | -50°C (-58°F) | 120°C (248°F) |
| FVMQ | Silastic 1S®, FSE® | Fluorosilicone Rubber | -65°C (-85°F) | 170°C (338°F) |
| FFKM | Perlast®, Kalrez®, Chemraz®, Kaflon® | Perfluoroelastomer | -25°C (-13°F) | 300°C (572°F) |