Spool valve to (change or control) joystick operation
Holmbury's PC Series pattern changer spool valve is designed to switch joystick functionality on equipment such as excavators. When operators move from one machine to another, they can set-up the joystick controls to function in a familiar format. This reduces re-training time, limits accidents caused by unfamiliar controls and avoids the need to switch hoses. The pattern changer is hand operated and has four inlet ports and four outlet ports. It provides 8-way, two position control of pilot signals.
Speciality Coupling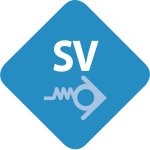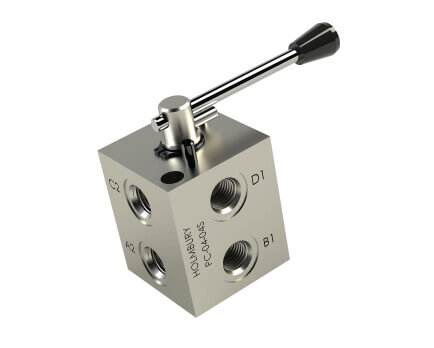 Features
Operated by turning the handle 90 degrees to change the joystick pattern
Reduction in training time when switching between machines made by different manufacturers
Compact design
Simple, reliable operations with no electronic components
Quick and easy to install
Accessories
Not applicable
Construction
Carbon steel with trivalent plating
Fitted with Nitrile seals
Applications
Switching joystick functionality between machines made by different manufacturers
AVAILABLE SEALS AND TEMPERATURE RANGE
All carbon steel products have Nitrile Butadiene Rubber seals fitted as standard. All stainless steel products have Fluoro-elastomer Rubber (Viton®) seals fitted as standard. Special seal materials available on request.
| | | | | |
| --- | --- | --- | --- | --- |
| Abbreviation | Trade Name | Chemical Name | Min Temp. | Max Temp. |
| NBR XNBR | Chemigum®, Hycar8, Breon®, Butakon®, Butacril®, Buna-N®, Perbunan®, Paracril®, Krynac®, Europrene-N®, Nipol® | Nitrile Butadiene Rubber Carboxylated Nitrile Rubber | -40°C (-40°F) | 106°C (223°F) |
| FKM (FPM) | Dai-el®, Fluorel®, Tecnoflon®, Viton® | Fluoro-elastomer Rubber | -20°C (-4°F) | 200°C (392°F) |
| EPR EPDM | Buna-AP®, Dufral®, Epsyn®, Nordel®, Epcar8, Keltan®, Royalene®, Polysar-EPDM® | Ethylene Propylene Copolymer Ethylene Propylene Terpolymer | -50°C (-58°F) | 120°C (248°F) |
| FVMQ | Silastic 1S®, FSE® | Fluorosilicone Rubber | -65°C (-85°F) | 170°C (338°F) |
| FFKM | Perlast®, Kalrez®, Chemraz®, Kaflon® | Perfluoroelastomer | -25°C (-13°F) | 300°C (572°F) |