Stainless steel pressure washer couplings
Holmbury's PWS Series stainless steel, pressure washer couplings are able to accommodate high flow rates and minimal pressure drops. The couplings are valveless, hence when disconnected any fluid in the system can escape. This makes these couplings suitable for the transmission of non- hazardous fluids only.
High Flow
Speciality Coupling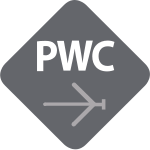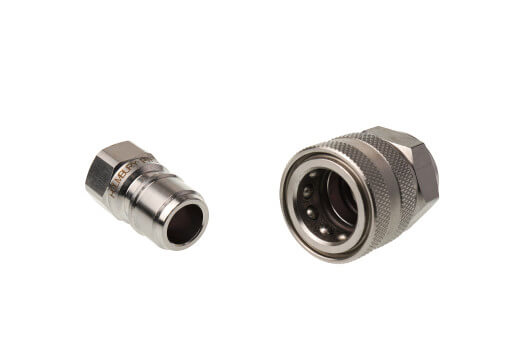 Features
Valveless design allows for high flow rates and minimal pressure drop characteristics
Female half has double 'O' ring sealing arrangement
Bidirectional flow
Accessories
Seal kits are available for the PWS Series
Construction
AISI 316 stainless steel
Fitted with Viton seals
Also available in carbon steel (See PWC Series)
Applications
Designed for use in pressure washer systems and systems containing non-hazardous fluids
AVAILABLE SEALS AND TEMPERATURE RANGE
All carbon steel products have Nitrile Butadiene Rubber seals fitted as standard. All stainless steel products have Fluoro-elastomer Rubber (Viton®) seals fitted as standard. Special seal materials available on request.
| | | | | |
| --- | --- | --- | --- | --- |
| Abbreviation | Trade Name | Chemical Name | Min Temp. | Max Temp. |
| NBR XNBR | Chemigum®, Hycar8, Breon®, Butakon®, Butacril®, Buna-N®, Perbunan®, Paracril®, Krynac®, Europrene-N®, Nipol® | Nitrile Butadiene Rubber Carboxylated Nitrile Rubber | -40°C (-40°F) | 106°C (223°F) |
| FKM (FPM) | Dai-el®, Fluorel®, Tecnoflon®, Viton® | Fluoro-elastomer Rubber | -20°C (-4°F) | 200°C (392°F) |
| EPR EPDM | Buna-AP®, Dufral®, Epsyn®, Nordel®, Epcar8, Keltan®, Royalene®, Polysar-EPDM® | Ethylene Propylene Copolymer Ethylene Propylene Terpolymer | -50°C (-58°F) | 120°C (248°F) |
| FVMQ | Silastic 1S®, FSE® | Fluorosilicone Rubber | -65°C (-85°F) | 170°C (338°F) |
| FFKM | Perlast®, Kalrez®, Chemraz®, Kaflon® | Perfluoroelastomer | -25°C (-13°F) | 300°C (572°F) |