Stainless steel in-line swivel joint couplings
Holmbury's SSIL Series stainless steel in-line swivel joint couplings are designed for in-line use on hydraulic circuits. Using a rotary coupling in the hydraulic line stops the hose twisting, limiting stress and increasing hose lifespan.
Speciality Coupling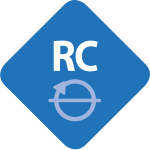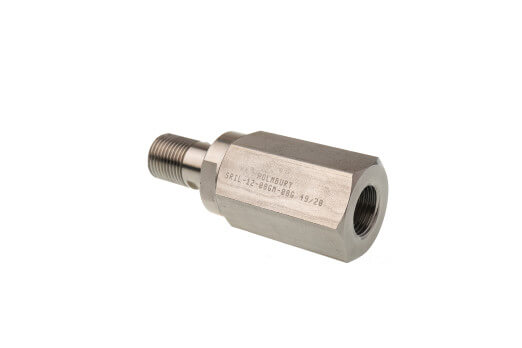 Features
Reduces torsional forces
Can also be used in applications that are required to rotate but not under pressure, such as hose reels
Spindle is carried on a roller bearing and has a low friction shaft seal that can rotate at maximum pressure with low torque
Accessories
Not applicable
Construction
AISI 316 stainless steel
Fitted with Viton seals
Also available in carbon steel (See CRIL Series)
Applications
General hydraulic systems
Machine tools
Test equipment
Agricultural
Mobile hydraulics
AVAILABLE SEALS AND TEMPERATURE RANGE
All carbon steel products have Nitrile Butadiene Rubber seals fitted as standard. All stainless steel products have Fluoro-elastomer Rubber (Viton®) seals fitted as standard. Special seal materials available on request.
| | | | | |
| --- | --- | --- | --- | --- |
| Abbreviation | Trade Name | Chemical Name | Min Temp. | Max Temp. |
| NBR XNBR | Chemigum®, Hycar8, Breon®, Butakon®, Butacril®, Buna-N®, Perbunan®, Paracril®, Krynac®, Europrene-N®, Nipol® | Nitrile Butadiene Rubber Carboxylated Nitrile Rubber | -40°C (-40°F) | 106°C (223°F) |
| FKM (FPM) | Dai-el®, Fluorel®, Tecnoflon®, Viton® | Fluoro-elastomer Rubber | -20°C (-4°F) | 200°C (392°F) |
| EPR EPDM | Buna-AP®, Dufral®, Epsyn®, Nordel®, Epcar8, Keltan®, Royalene®, Polysar-EPDM® | Ethylene Propylene Copolymer Ethylene Propylene Terpolymer | -50°C (-58°F) | 120°C (248°F) |
| FVMQ | Silastic 1S®, FSE® | Fluorosilicone Rubber | -65°C (-85°F) | 170°C (338°F) |
| FFKM | Perlast®, Kalrez®, Chemraz®, Kaflon® | Perfluoroelastomer | -25°C (-13°F) | 300°C (572°F) |