Holmbury's BVS3 Series three-way manifold type high-pressure
ball valves are designed to suit a wide range of applications.
These valves should not be used as flow control valves and
should therefore always be fully open or closed.
Speciality Coupling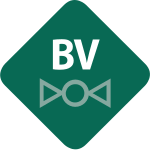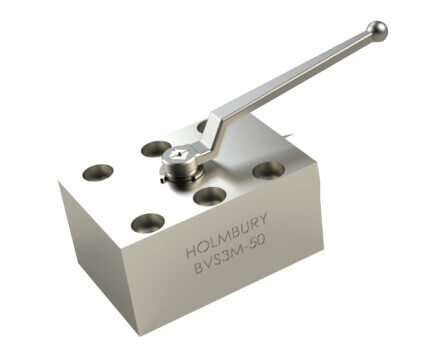 Features
• Floating ball design maximises sealing
• Full bore valves provide unrestricted flow path
for negligible pressure drop
• Open to close in 1/4 turn
• Offset handle allows clearance for easy operation
Accessories
• Valve locking kits and valve handles are available
for the BVC3 Series
Construction
• AISI 316 stainless steel body (Some internal
components carbon steel)
• Zinc alloy handle
• Forged steel option available
• Fitted with FKM and POM seals as standard
• Also available in carbon steel (See BVC3 Series)
Applications
• Marine
• Offshore
• Pharmaceutical
• Power Generation
AVAILABLE SEALS AND TEMPERATURE RANGE
All carbon steel products have Nitrile Butadiene Rubber seals fitted as standard. All stainless steel products have Fluoro-elastomer Rubber (Viton®) seals fitted as standard. Special seal materials available on request.
| | | | | |
| --- | --- | --- | --- | --- |
| Abbreviation | Trade Name | Chemical Name | Min Temp. | Max Temp. |
| NBR XNBR | Chemigum®, Hycar8, Breon®, Butakon®, Butacril®, Buna-N®, Perbunan®, Paracril®, Krynac®, Europrene-N®, Nipol® | Nitrile Butadiene Rubber Carboxylated Nitrile Rubber | -40°C (-40°F) | 106°C (223°F) |
| FKM (FPM) | Dai-el®, Fluorel®, Tecnoflon®, Viton® | Fluoro-elastomer Rubber | -20°C (-4°F) | 200°C (392°F) |
| EPR EPDM | Buna-AP®, Dufral®, Epsyn®, Nordel®, Epcar8, Keltan®, Royalene®, Polysar-EPDM® | Ethylene Propylene Copolymer Ethylene Propylene Terpolymer | -50°C (-58°F) | 120°C (248°F) |
| FVMQ | Silastic 1S®, FSE® | Fluorosilicone Rubber | -65°C (-85°F) | 170°C (338°F) |
| FFKM | Perlast®, Kalrez®, Chemraz®, Kaflon® | Perfluoroelastomer | -25°C (-13°F) | 300°C (572°F) |