Screw connect flat face couplings
Holmbury's HFT Series screw connect couplings incorporate all of the benefits from the flat face design, whilst the screw connection strengthens the coupling and eliminates brinelling. Connection and disconnection can be undertaken with high residual pressure in male coupling. The HFT Series is an ideal solution for high pressure pulses and many other applications.
Connect Under Pressure
Min Spill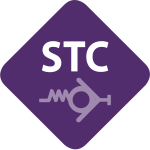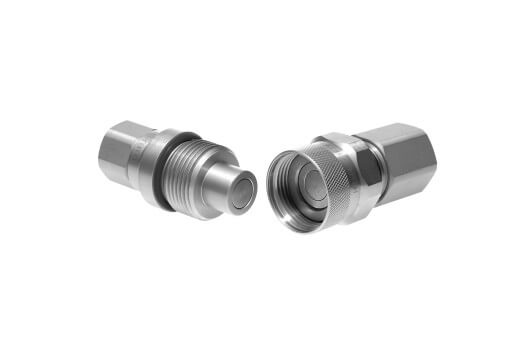 Features
Screw connect design eliminates brinelling
Flat faces are easily wiped clean
Allows for minimal inclusion of air and contaminents during connection
Flat face design prevents fluid loss during disconnection
Bidirectional flow
Accessories
Dust caps, plugs and seal kits are available for the HFT Series
Construction
Carbon steel with zinc nickel plating (1200 hours with no red rust in salt spray tests)
Fitted with Nitrile seals
Applications
API 16D certification for blow out preventors (BOP) on oil & gas applications
Hydraulic attachments
Hammer circuits
High pressure pulse applications
Leak free environments
Construction plant, mobile equipment, general industrial, mining and agricultural industries
AVAILABLE SEALS AND TEMPERATURE RANGE
All carbon steel products have Nitrile Butadiene Rubber seals fitted as standard. All stainless steel products have Fluoro-elastomer Rubber (Viton®) seals fitted as standard. Special seal materials available on request.
| | | | | |
| --- | --- | --- | --- | --- |
| Abbreviation | Trade Name | Chemical Name | Min Temp. | Max Temp. |
| NBR XNBR | Chemigum®, Hycar8, Breon®, Butakon®, Butacril®, Buna-N®, Perbunan®, Paracril®, Krynac®, Europrene-N®, Nipol® | Nitrile Butadiene Rubber Carboxylated Nitrile Rubber | -40°C (-40°F) | 106°C (223°F) |
| FKM (FPM) | Dai-el®, Fluorel®, Tecnoflon®, Viton® | Fluoro-elastomer Rubber | -20°C (-4°F) | 200°C (392°F) |
| EPR EPDM | Buna-AP®, Dufral®, Epsyn®, Nordel®, Epcar8, Keltan®, Royalene®, Polysar-EPDM® | Ethylene Propylene Copolymer Ethylene Propylene Terpolymer | -50°C (-58°F) | 120°C (248°F) |
| FVMQ | Silastic 1S®, FSE® | Fluorosilicone Rubber | -65°C (-85°F) | 170°C (338°F) |
| FFKM | Perlast®, Kalrez®, Chemraz®, Kaflon® | Perfluoroelastomer | -25°C (-13°F) | 300°C (572°F) |